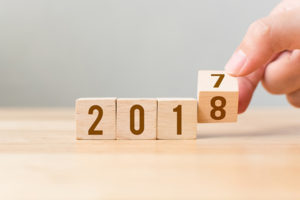 The retail sector provides a revealing insight into consumer confidence. With the Christmas period now a distant memory, and the sales already starting to be replaced by Valentine promotions, it's useful to look at the high street – and what 2018 may have in store.
A disappointing December
The month of December is of course the key month for retailers. Many shops make most of their annual profits in the lead up to the holidays. Figures for 2017 showed decline rather than growth, with the Christmas period particularly quiet.
The Visa UK Consumer Spending Index is based on total spending on Visa credit, debit and prepaid cards, which account for £1 in every £3 spent in the UK, and is arguably one of the most accurate bellwethers of consumer spending.
It showed that December spending declined by 1%, on top of a 0.9% reduction already seen in November.
Mark Antipof, chief commercial officer at Visa, commented.  "Christmas rounded off a lean year for retailers with consumer spending seeing its first consistent 12 month decline since 2012. December's consumer spending figures confirm our earlier prediction that the UK would see its first fall in overall Christmas spending in five years."
What is happening?
There are several reasons behind this downturn, and Brexit is at the root of many of them.
A weak pound has caused prices to rise for the essentials, food and fuel as well as the luxuries. Inflation now stands at a significant 3%, while wages have remained static. Despite falling unemployment and a stock market that is positively booming, many families are feeling the pinch. Household expenditure accounts for about 60% of the economy, more than businesses and government investment combined. Consumer spending can drive economic upturns, so poor performance on the high street can be bad news for all.
So what is the outlook for 2018?
Retailers may have ended 2017 on a downbeat, but the picture for 2018 may be more positive.  Inflation is high at 3%, but many observers see this as temporary, and that once the costs of a weak pound are absorbed inflation should slow. The economy is growing, even if it is lagging behind Europe, and if Brexit negotiations take on a more constructive note, the UK economy could catch up.
There is already some evidence that productivity is improving.
What's more, the figures on the high street don't tell the full story. Conventional retailers may be worried by declining sales, but online retailers saw no such problems, with growth of 2%.
What should you do?
It looks as though 2018 could prove positive for the UK with a share in the global recovery. However, you should still look at your own finances.
Consumer debt is high in the UK, and if you are carrying a great deal of debt with loans and credit cards, you could be at a serious disadvantage whatever happens to the economy. It could be worth looking at ways to pay down debt if you can.
Secondly, interest rates remain low. Finding the best home for your savings, or even considering starting investment could be a priority.
But perhaps the most important need of all is to get some professional advice about your finances.
Protecting and growing your money is essential. At Continuum we have the expertise to help you make the most of 2018, whatever it holds. If you are planning retirement, investing, buying a new home, or simply want to make sure your money is working as hard as possible for you call us now on 0345 643 0770, or email us now <live email link>at  [email protected]
The value of investments can fall as well as rise. You may get back less than you invested.
Sources:
visa.co.uk – No festive cheer for retailers as December rounds off the worst year for consumer spending since 2012 – January 2018
Related articles