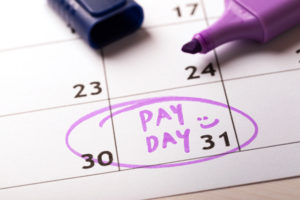 It may not feel like it, but after several years of austerity and very little chance of an increase in income many of us could start to be a little better off this year.
There are three reasons why.
An increase in the minimum wage
Pay packets for lower paid workers across the country should have already become a bit thicker since the National Living Wage and Minimum Wage went up from April 1st. The rules state that if you're working and aged 25 or above your hourly rate must be at least £7.83 from April 2018.
The 4.7% increase, announced last year by Chancellor Philip Hammond, could see some people as much as £50 a month better off.
Under the same legislation, pay for apprentices went up by 20p an hour.
An increase in Personal Allowance
April 1st also saw the Personal Allowance, the amount you can earn a year tax-free, increase from £11,500 to £11,850. The rise means you'll be able to earn up to £350 more a year without having to pay income tax, while anyone above the threshold will save an estimated £70 a year.
Real wage growth
Wage increases may not be confined to the lower ends of the pay scale. The Bank of England's agents' survey suggests wages growth across the UK is set to pick over the course of 2018.
Overall incomes should start growing for the first time since first quarter of 2017.
The survey, which is designed to provide a realistic picture of economic activity across the UK showed that businesses expect wage growth to increase to 3.1% in 2018, up from 2.6% last year. The survey also looked at sectors and suggested that increases in pay settlements in 2018 are expected to be broad-based. Average regular pay (excluding bonuses) for employees in Great Britain was £484 per week before tax and other deductions, up from £470 per week a year earlier.
"Total labour cost growth continued to pick up, largely due to a combination of recruitment difficulties, the rising cost of living and the increase in the National Living Wage"
Bank of England's agents' survey, 2018
A fall in inflation
Of course, an increase in income does not mean much if it is outstripped by rising prices. Between 2008 and 2014 inflation was growing faster than pay, causing the real value of wages to fall. Inflation fell in 2015 and 2016, until the Brexit referendum and the fall in value of the pound accelerated inflation which was at 0.5% in June 2016 to 3.1% in November 2017.
Inflation has fallen back, and with further falls predicted the real value of wages should grow during the course of the year.
The figures from the Office of National Statistics confirm that these predictions are being borne out in the real world. Figures for April and March both showed nominal wages growth, reaching 2.9% in April
As such, the figures comfortably outstrip inflation. The Consumer Prices Index including owner occupiers' housing costs (CPIH) 12-month inflation rate was 2.2% in April 2018, down from 2.3% in March 2018. The rate has fallen back from a recent high of 2.8% during autumn 2017 making the April 2018 figure the lowest since January 2017.
Will these wage rises continue?
With higher wages, increased personal allowance and reduced inflation, many of us really could be better off.
Some observers suggest that the final step in the UK's long, slow recovery from the financial crisis is here at least.
If a little more wealth might make a difference to your financial plans, it could be time to get some expert advice from the Continuum team.
Get in touch
If you would like to discuss further please call us on 0345 643 0770, email us at [email protected] or click on the 'Contact Us' link below. Thank you.
Sources:
checkyourpay.campaign.gov.uk – The National Living Wage and National Minimum Wage
bankofengland.co.uk – research datasets
uk.businessinsider.com – The Bank of England has some good news — you're probably going to get a pay rise in 2018 – 14th February 2018
ons.gov.uk – Inflation and price indices – 23rd May 2018
yourmoney.com – Wages grow for second month in a row – 15th May 2018
Related articles