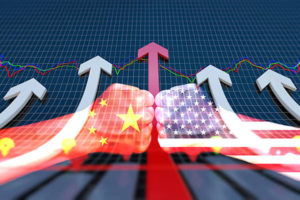 The global economy has still not fully recovered from the financial crisis, and it could be under threat again.
President Trump was elected with a mandate to make America great again – especially in terms of industry. The great industrial cities of the Midwest have become the 'Rust Belt' in decline since the 1980s, when traditional manufacturing work started to be lost to foreign competitors. China and the emerging economies had low labour costs and manufacturing plants based on new technology, which allowed them to undercut US industry.
American manufacturers have actually relocated to China to take advantage of the cheaper labour costs. "Made in USA" imprints are becoming a rarity.
The first shots have been fired
As part of a stated policy to bring jobs back to America, the Trump administration imposed a 25% tariff on $50 billion worth of Chinese goods imported into the United States on June 15.
However, the very next day, June 16, 2018, China announced a retaliatory 25% tariff on $50 billion worth of American exports to China.
It looks as though the first shots have been fired a trade war between the US and China. But the fighting may not be restricted to the Pacific theatre. President Trump hit EU, Canadian and Mexican metal producers with tariffs of 25% on steel and 10% on aluminium at the start of June. Last Friday, the EU reacted with retaliatory import tariffs on a range of American products. Everything with a made in the USA tag from orange juice and blue jeans to that Harley Davidson you always promised yourself will cost you more as a result.
An initial €2.8 billion (£2.5bn) in charges could be just the beginning. The pattern of Mr Trump reintroducing protectionism and other countries predictably hitting back could risk escalating into an all-out trade war between the US and the rest of the world.
We know where protectionism leads…
President Trump seems to be following a policy of Protectionism, the economic policy of restricting imports from other countries through methods such as tariffs on imported goods. Protectionist policies shield the businesses and workers of the importing country from foreign competitors. However, they also reduce trade and raise the cost of imported goods.
There is a consensus among economists that protectionism has a negative effect on economic growth, and some believe it to be the cause of the great depression of the 1930s. Stock markets around the world may have seen falls sparked by fears of a protectionist trade war.
Germany has slashed its economic forecasts. OPEC is worried. China may already be slowing, emerging markets are coming under pressure and the International Monetary Fund is sounding the alarm.
But are things quite so simple?
A trade war could slow global trade, which would lead to the US killing off the growth it needs to bring back jobs to the rustbelt. President Trump can't afford to undermine growth and jobs in the United States, cutting the US out of international trade, while other blocks take advantage of free trade elsewhere. Or it could simply be a political move, rather than an economic strategy, a tactic designed to soften up trading partners for some of the much-vaunted Trump deal making in the near future.
Whether the threat is real or not, if your investments include international stock, you might want to consider your position with volatile markets in mind.
The value of investments can fall as well as rise and you may get back less than you invested.
Get in touch
If you would like to discuss further please call us on 0345 643 0770, email us at [email protected] or click on the 'Contact Us' link below. Thank you.
Sources:
seekingalpha.com – Why America Wins The Trade War And How Clever Stock Traders Can Profit From It – 21st June 2018
money.cnn.com – Trade war: America risks killing the global growth it needs – 15th June 2018
independent.co.uk – The American products set to become 25% more expensive from today – 22nd June 2018
Related articles