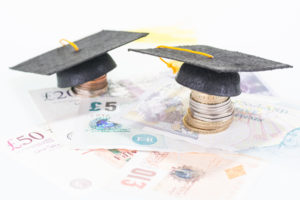 Last Monday, the Prime Minister announced an independent review of fees and student finance. Theresa May argued for an end to "outdated attitudes" that rated university over technical education, and observed that for many students, "the level of fees charged do not relate to the cost or quality of the course".
The one thing she did not do is promise to abolish tuition fees, or bring back maintenance grants. Further education looks as though it will remain an expensive investment for many families.
What are the costs?
Almost all university courses are charged at the maximum £9,250 per year, which will mean most students graduate with a debt of at least £27,750 for tuition alone. Living costs can easily double that figure.
Education secretary Damian Hinds has called for innovations such as such as two year degrees, "commuter degrees" where students live at home and part-time courses that will allow students to combine study with a career.
But the fact remains that money is becoming a barrier to further education, and the extra career opportunities and earning potential it offers. Students from poorer families may be able to secure bigger loans for living costs than those from better off families, who are expected to be partly supported by their parents. But this simply means that they graduate with bigger debts.
Further education means large debts
Interest of up to 6.1% is charged on loans. Any unpaid debts are written off after 30 years, but graduates are saddled with a drain on their earning power when they start work, making it more difficult to do things like get on the property ladder.
What can families do to help?
Whatever the recommendations of the government's study, families may have to continue helping to pay for the education of their offspring. This can be a big expense at any time, but it is made more complicated by the fact that as a nation we are having children older. The growing numbers who have children in their 40s will already be thinking about their own retirement when they find themselves supporting children through University.
The solution is to plan ahead, particularly if you have a large family, and the earlier you start saving for your children's university costs the better.  You might even want to start to invest when your child is born, giving you at least 18 years to build up a substantial sum.
Saving into a Junior ISA could mean that the taxman will not be taking a slice of the college fund. Parents and Grandparents can save up to £4,128 a year and the money belongs to the child when they turn 18, making it perfect for further education fees. Asking family and friends to make contributions instead of birthday or Christmas presents to help might not be popular with younger children, but they will see the benefits when University comes around.
Junior ISAs tend to be in cash but you can also arrange a Stocks and Shares Junior ISA, aimed at using the potential of the stock market to build wealth faster.
A Junior ISA is only one of the way to prepare for the costs of higher education. Family Trusts might be a solution, particularly if Grandparents could help. It pays to look at all the solutions – and to get expert help and advice on the answers that are right for your family.
The simplest way to get the help you need is to talk to us at Continuum.
The value of investments can fall as well as rise and you may get back less than you invested.
Get in touch
If you would like to discuss further please call us on 0345 643 0770, email us at [email protected] or click on the 'Contact Us' link below. Thank you.
Related articles