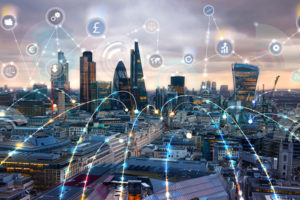 The investment market hates uncertainty. The Brexit debacle grinds on with apparently nothing but uncertainty about how the future will look, and investors may have been wary of UK equity investment as a result.
Brexit confusion and weak economic growth may have meant that many investors seem to have lost faith in the UK. But what are the real prospects for investing in UK businesses – and could it be that the current depressed market actually represents some exciting opportunities for investors?
The current position
Despite some remarkable volatility, the FTSE 100 is actually showing  something of a high at present. However, the top companies represented are frequently multinationals, and the performance of the top FTSE index is more influenced by the global economy, and the depressed state of Sterling, rather than the prospects for the UK economy.
Companies on the FTSE All-Share index are very much unloved by global investors at present. Despite near record highs, London listed shares have underperformed most major world markets over the past 18 months. While the American stock market surged by more than 20% and  some Asian markets by more than 25%, the FTSE 100 gained  just 10%. Brexit uncertainty continues to linger and investors are also concerned about how interest rate hikes this year could affect the economy.
Britain's leading employers' organisation, the Confederation of British Industry, believes the UK economy will shift down a gear this year and risks remaining in the slow lane because of Brexit. Cutting its growth forecast, the CBI said it expected the growth rate for the British economy to slow to 1.4%, from 1.8% last year.
It might look as though the UK is not investable in the current climate. But investing in a country or asset class when it's out of favour can be a profitable strategy over the long term.  Britain's economy is sound, despite Brexit worries  – leading some commentators to conclude that UK equities are actually undervalued. They take the view that as soon as the Brexit questions are settled, there could be price growth – and that in the meantime, undervaluation means good returns.  There may be opportunities for investors who are prepared to spot undervalued stocks, particularly  from those companies that pay generous dividends, and buy into them at today's low prices.
What is the outlook?
It's hard to make any kind of predictions about the post Brexit economy. On one hand remainers believe that trade will suffer. On the other, Brexit enthusiasts are convinced that  the UK will enjoy a huge boost when the restrictions imposed by Brussels are gone, with deals coming in from the rest of the world.
At present, the signs for any agreement don't look promising. Business groups become increasingly worried about the lack of progress being made by ministers in talks with Brussels, amid divisions between senior cabinet members. But international negotiations are often resolved at the last minute, for the pragmatic reason that it is in everyone's interest to do so.
What should you do?
Investment wisdom is that spreading investments across markets asset class and sectors can be the best strategy. Having investments abroad might therefore look prudent in the light of  current uncertainties. In fact London's stock market is highly international. While companies might have shares listed in Britain, many have much of their earnings derived from elsewhere in the world.
This means investing in the UK it could make it possible to have the best of all worlds – a good spread of international investment,  the confidence of a portfolio of UK names, undervalued stocks – and excellent prospects once Brexit clouds clear.
Investing can be simpler if you can call on some expert help. At Continuum, we will be very pleased to provide it.
The value of investments can fall as well as rise and you may get back less than you invested.
Get in touch
If you would like to discuss further please call us on 0345 643 0770, email us at [email protected] or click on the 'Contact Us' link below. Thank you.
Sources:
telegraph.co.uk – How much should you be investing in Brexit Britain? – 26th February 2018
Related articles