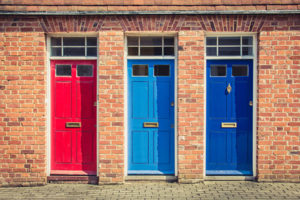 Predicting what the future holds for UK housing is becoming complicated.
On the one hand, Brexit and economic uncertainty could mean we are due for a correction of an overheated market. On the other, mortgage rates that are still at historic lows, and a serious shortage of housing stock could carry on pushing them up.
We look at the UK housing market in 2018.
A difficult market for sellers
According to a survey by the Royal Institution of Chartered Surveyors (RICS), much of Britain's housing market has stalled, with fewer people looking to buy and prices barely rising.
On the basis of this RICS expects the market to remain subdued. Brexit worries and belt tightening seems to mean that the numbers of sales are flat or falling in most regions of the UK.
A slowing market means people are no longer desperate to buy whatever the price. In fact, more than a third of home owners trying to sell have been forced to reduce their asking price, according to online home listing site Rightmove. They claim to list 90% of the houses being sold in the UK and to provide a clear an unbiased view of real market conditions.  Their figures suggest that 37% of current sellers are dropping their asking price. This is particularly true at the luxury end of the market.
However, this is not to suggest that 2018 will see a house price apocalypse. Typical asking price reductions are of the order of 1% or less, and may simply indicate that those who recently put their property on the market were being too optimistic.
Not all observers agree. Major mortgage lenders may paint a more buoyant picture of the housing market, with prices rising. But this only because of the shortage of homes on the market rather than a recovery in demand.
Regional trends
London estate agents are reporting that the stratospheric prices commanded across the capital may be coming a little closer to down earth. This may be because the large numbers of overseas buyers may be reduced, and because the price inflation really had become unsustainable.
But at the same time, commuter towns around London may be enjoying a small increase in prices. Buyers realise that for the price of a bedsit in Chelsea they can have a 3-bedroom house in Guildford or Aylesbury.   Further still from the capital, sales in Scotland, north-east England and Wales have seen sales pick up, although sales number are expected to dip over the next 12 months.
What's causing the slowdown?
The slowdown in the markets could be due to a lack of confidence and a lack of money as inflation eats into budgets and interest rates begin to rise.
The position is not helped by the fact that young people can't afford to get their feet on the first rung of the housing ladder, meaning that it is impossible for those already on it to move up.
The Chancellor, Philip Hammond, attempted to address this in his Autumn budget, when he announced the immediate abolition of stamp duty for all properties up to £300,000 for first time buyers in his budget. The move will save four out of five first time buyers up to £5,000.
This could provide a little more cash for that first buy, although the independent Office for Budget Responsibility has warned it may simply drive up prices.
So what is really in store for 2018?
If there is a consensus, it looks as though prices may fall a little in London, where the market may have overheated in recent years, and rise a little in those areas where housing is still affordable.
Countrywide predict house prices will rise on average across the UK, but at just 1.5%, which is around half the current inflation figures, this is a fall in real terms.
But of course, although housing is an investment, and expensive one at that, it is also a necessity. We all need somewhere to live, and we may need to move, for work or family reasons, whatever the market does.
If you need help with your home or property investment plans in 2018, it pays to get expert help and advice.
Simply call us at Continuum for the help you need.
Sources:
The Guardian – UK house prices stall as moving costs and interest rate rise bite – 9th November 2017
RICS.org – Demand backdrop continues to deteriorate – October 2017
Countrywide.co.uk – Housing Forecast 2016-2018 – Summer 2016
The Guardian – More than third of UK home sellers cut asking price, says Rightmove – 13th November 2017
Rightmove.co.uk – 2018: A tale of different markets leads to Rightmove forecast of +1% – December 2017
Related articles