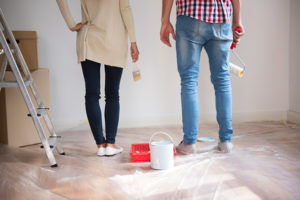 Are you thinking about a move up the property ladder?  From a flat to a house with a garden when you are planning a family. Another bedroom when there's a new addition, a second reception to get away when the new addition becomes a teenager. Somewhere to use as a home office.
There's always a reason to move on. But should you?
Moving is not always the answer
Moving can give you the home you need, ready made.
Of course, there are costs to consider. You need to pay estate agency fees for the sale of your property, solicitors' fees and search fees, and a removals company. Redecorating and some new furniture will add to the costs.  But the most significant cost is Stamp Duty, or Stamp Duty Land Tax (SDLT) to give it its full name. If you are moving on rather than buying first time, the costs are:
| | |
| --- | --- |
| Band | Rate |
| Under £125k | 0% |
| £125k to £250k | 2% |
| £250k to £925k | 5% |
| £925k to £1.5m | 10% |
| Over £1.5m | 12% |
You can get an exact cost on the government SDLT website. The cost of the actual move can top £10,000 even before you start thinking about bigger mortgage payments.
Extending or improving
If you like your current home and your location, it might be better to improve, rather than deal with all the upheaval of moving. It often makes good financial sense too. Converting an attached or integral garage into another reception room is routine, or you may have room to convert the loft into another bedroom. You could also look at taking part of the garden and extending.
The costs of extending will depend on where you live and what you want. Builders may charge more in London and the south, and obviously, a single floor extension to give you a bigger kitchen will cost less than a double height wrap around that doubles your floor area. Obviously, you will need to take into account costs for the building work and also architect's fees and include a contingency.
These costs may be substantial, but you may be able to recoup them when you come to sell, as long as your home is balanced. Too many bedrooms and too little downstairs could detract rather than add to its value.
Finding funds
Move or improve, you don't need to have the cash upfront. Borrowing to extend your home can be as simple as borrowing to buy another.
Your mortgage lenders will apply the same tests and rules whether you are borrowing to move or to extend. But if you have lived in your current home for a while, growing house prices might mean that you may have built up substantial equity in it. Mortgage rates are at historically low levels, and if you own 35% or 40% of your home you might even be able to borrow more by remortgaging without your overall monthly repayments going up.
The important thing is to get expert advice about getting the mortgage that is right for you, and at Continuum, we are ready to help.
If you're unsure if you can afford to buy a new home, or would like to remortgage to invest in your existing property contact our team today.
Remember your home may be at risk if you do not keep up with the repayments for a loan or mortgage secured on your property.
Levels and bases of reliefs from taxation are subject to change and depend on your personal circumstances.
Get in touch
If you would like to discuss further please call us on 0345 643 0770, email us at [email protected] or click on the 'Contact Us' link below. Thank you.
Related articles