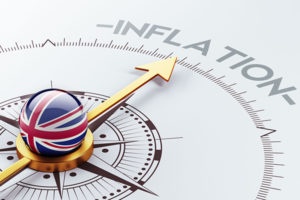 Inflation is bad news for almost everyone. It eats into savings, it puts up the cost of living, and it means increasing hardship for anyone on a fixed income.
It's reached problem levels. 3.1%, the level consumer inflation reached in November may not sound a lot on paper, but it in the real world it means real problems for anyone on a tight budget. It is more that 50% higher than the government's official 2% inflation target, and was one of the key reasons behind the Bank of England's decision to double the base rate last year.
So the key question to ask is, where is inflation headed now?
What is driving inflation?
To see where inflation is headed, it is important to know where it's coming from.
2017 saw prices shoot up because of the plunge in the value of the pound after the Brexit vote. Higher prices for imports meant higher prices in the shops for food, fuel and practically everything else. Inflation reached levels not seen since the financial crisis.
However, the economy is not overheating, and wages are certainly not on the up.  These are the classic drivers of inflation, leading many to conclude that once the effects of a weak pound have been absorbed, the pressures driving price hikes would fall away, and the rate of inflation would fall with it.
So what has happened?
Figures in the first months of the New Year are distorted by the Christmas spending frenzy, but inflation actually did fall in December. The fall itself was not dramatic but the fact that it happened at all at a time when overspending is the norm is significant. The Office for National Statistics saw 3% as opposed to the 3.1% of November.* It could be a sign that inflation is starting to cool.
The economy may be regulating itself. Poor Christmas retail figures suggest that people are feeling the pinch, and that shopkeepers had to keep prices down. The sales started early in many high streets.
This, plus the increased bank rate may help to reduce inflationary pressures.
What happens next?
It could be too early to tell if the drop in the inflation rate last month was the start of a long-term trend, although many observers are optimistic. Brexit fuelled inflation may have passed its peak, and should start to ease towards its 2% target during 2018. But things may not be quite that simple.
On one hand, the economy is growing. With unemployment at the lowest level since 1975, and some EU workers already considering leaving the UK, there are skills shortages in certain sectors. These could prompt employers to boost salaries in a bid to retain staff, giving rise to wage inflation.
On the other, the economy is still struggling to get up to speed. With raw material costs rising, some firms will take a more conservative approach to wages to maintain profitability.
The big concern is that if inflation does not fall, the Bank of England will have no option but to raise interest rates again, potentially acting as a further damper on recovery.
What will it mean to you?
Inflation remains a threat if you have cash savings. It might be time to consider investing your savings, rather than keeping them as cash investments.
To discuss the best way to safeguard your wealth, and to see what investment could do for you, simply talk to us at Continuum. Call us now on 0345 643 0770, or email us at [email protected]
The value of investments can fall as well as rise. You may get back less than you invested.
Sources: 
Office for National Statistics – Consumer Price Inflation – December 2017
Related articles