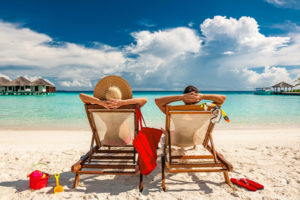 Summer is here, and most people will be going away for a well-earned break. Concerns about the environment may be growing, but for most of us that still means heading abroad.
But to make your fortnight in the sun really carefree, you need to take a few precautions first. Travel insurance is included with most package deals, but it's always a good idea to check. You expect it to cover things like lost luggage and delayed flights, and cancellations for things that are beyond your control.
But what about medical emergencies?
Medical insurance is vital
A lost suitcase can be upsetting, but the cost of emergency medical care can be ruinous. A fall and a broken bone in the US could easily lead to an expensive medical bill.
We don't go away expecting the worst, but accidents happen, and illness can strike at any time. If you are heading abroad, you need to make sure you have adequate cover before you go.
You might have private medical insurance at home, but it is unlikely to provide the cover you need while you're abroad. Check your policy – but the chances are that most will only provide cover from UK medical practitioners.
Going to Europe? Get an EHIC card
The cover you need may not necessarily cost you anything. The EHIC is an agreement between countries in the EU and European Economic Area. If you're traveling within Europe, make sure you have an EHIC card, which you can get free from the Department of Health. This card means you are entitled to treatment at any public hospital in all 28 EU countries as if you were a local citizen. It may not be free – if the locals pay when they receive medical attention so will you – but it will cost substantially less than the full price you will pay without a card.
Over half of people in the UK don't have an EHIC, and they do run out, so check you have an up to date card before you travel.
Single trip insurance
For your summer break, wherever in the world you are headed, regular and single trip travel insurance might be adequate. Most policies will cover medical costs in the millions, which should be more than adequate for local emergency care and repatriation costs. If you are over 70, or if you have existing medical conditions costs may increase considerably. Make sure you fully declare everything to ensure that your cover is valid.
You can shop around for cover and remember if you are planning on wintersports or other hazardous activities – such as diving or climbing – you will need to declare it.
International medical insurance
If you're going to be away for a long period or intend to work abroad, you should take out international private medical insurance. This will give you access to the best medical facilities in the country you're in. It usually provides a generous allowance for emergency medical treatment, which will include the cost of repatriation to the UK, where your private medical insurance would kick in.
If you need any help with arranging any kind of insurance, contact us at Continuum. Our expert team will be happy to help.
Get in touch
If you would like to discuss further please call us on 0345 643 0770, email us at [email protected] or click on the 'Contact Us' link below. Thank you.
Related articles