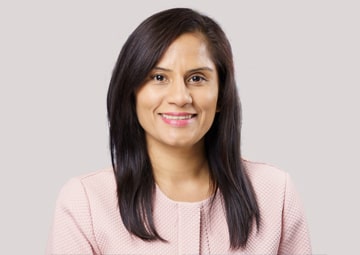 Sandy Pabial is the latest professional to join the team at Continuum (Financial Services) LLP.
Sandy brings 15 years of experience as an IFA, and before that, a broad grounding in matters financial gained with a leading bank – as well as a degree in marketing and law.
She explains her reasons for joining the Continuum team, why she sees it as a logical next step – and a chance to provide an even better service to her clients.
"There are many reasons why I am so pleased to be joining Continuum – but perhaps the most important is the fact that we share the same approach. Our values are the same; we put our clients and their long-term interests at the heart of our relationship -."
Sandy also points to the importance of making a partnership the basis for the service she provides.
"Continuum and I both believe in working in partnership with clients. I have always found that a real partnership alongside unbiased independent advice is the best way to deliver the long term outcomes that a client wants.
Of course, with Continuum, the concept of a partnership does not end with a few meetings and a handshake. I'm looking forward to working in an extended partnership which can include accountants and the legal profession. That helps me ensure that the measures I develop for my clients really can provide the kind of financial security and prospects they are looking for."
Sandy believes that there is another important aspect of working with Continuum.
"I believe in building a relationship with clients for the long term. When they find their financial circumstances are changing – whether they are buying a home, getting married or starting a family, their financial priorities will change. It is easier for them to make the changes they need if they have someone they already know and trust to guide them to the outcomes they desire. So, the partnership with clients is for the long term. That's something that Continuum support."
Sandy is also passionate about the need for financial education.
"Over the years I have managed pensions, investments and helped my clients protect themselves and their families. All these tasks are made a lot easier when clients understand the basics and the reasons why particular products are right for them. My clients trust me to understand the ever changing markets and financialregulations to continue to ensure their investments and choices keep them on the track to meet their long term objectives.
Education is key to helping individuals grow, build confidence and have the peace of mind knowing that they are being looked after and are on the right path, Continuum also have a commitment to providing that financial education, with their Client Education Programme and downloadable guides."
Martin Brown, Continuum's Managing Partner is pleased to welcome Sandy to the Continuum team. "We have established Continuum as a growing force in the industry simply because we believe in putting our clients and their interests first. It is an approach that Sandy shares. At a time when our industry is going through some changes, stability and commitment are important, and Sandy will help us provide it. We always want our clients to know that they are in safe hands, and Sandy has the knowledge and experience to help us do it.
Sandy will be based outside of London and is looking forward to helping new clients discover the advantages of planning their futures with Continuum.
"I was looking for an organisation that operated in a similar manner to myself and treated clients fairly and honestly, which was truly independent – and which valued long term relationships. Continuum have all those qualities, and the resources to ensure I have everything I need for me to provide that exceptional service to my clients. That's the real reason why I am joining the Continuum team."
"It's time for me to take care of my clients on my terms, and my only agenda is to provide an exceptional service to those clients."
The value of your pensions and investments can fall as well as rise and you may get back less than you invested. Estate planning is not regulated by the FCA. Your home may be repossessed if you do not keep up repayments on your mortgage.