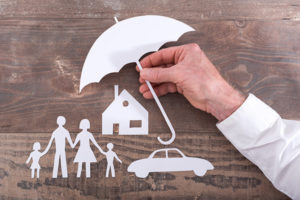 It's Valentine's day.  Your first thoughts might be a card and a little gift for the special person in your life, but there's something else you should consider.
Giving your loved ones financial protection also says you care, and means peace of mind for both of you.
Life assurance
Life assurance is essential if you are a couple, and especially if you have a family. The loss of partner is a major financial problem – even if you are both working, sharing bills makes them much easier to deal with.
Life assurance could ensure that the pain of loss would not be made even worse by financial hardship, and the loss of the home you shared. It could pay off the mortgage, helping your loved one (or loved ones) stay in their home, and provide enough additional funds to provide an income.
How much cover do you need? The growing cost of living means that the cover which was generous 10 or 20 years ago can seem barely adequate now. What kind of cover?
Term insurance is the most common choice, but it ceases when we reach an agreed age.
A Whole of Life policy could provide for those we leave behind, and help keep your wealth out of the hands of the taxman by dealing with any inheritance tax demand.
It's worth getting professional advice to ensure you have the type and level of life assurance you need.
Critical Health Cover
The good news is that statistics say we are living longer, and your life assurance may not be paying out for many years. But illness and accident can still strike at any time, and leave you unable to work.
Critical illness cover pays out a tax-free lump sum if you are diagnosed with an illness or medical condition specified when you took out the policy. You can use it to pay off debts, to adapt your home, or in any other way you wish.
The younger and fitter you are when you take out your cover the less it can cost, and you can save even more by arranging it as an add-on to many life assurance policies.
Income protection cover
Critical illness cover could provide a lump sum, but if illness left you unable to work, you might need to consider income protection insurance. There are two types of cover.
Short term Income Protection policies, or Accident, Sickness and Unemployment cover, will pay out for one or two years. There are many different policies available, including Payment Protection and Mortgage Payment Protection Insurance, while others will replace your income until you are fit enough to work again. These can often include cover you if you are made redundant
Long Term Income Protection can provide an income if you are unable to work due to illness or disability. It can pay out until you are well enough to return to work, or until your retirement age.
Getting the cover you need
Everyone probably needs insurance protection, but the level and type of cover that's right for you will depend on your personal circumstances.
Costs for most types of insurance are lower the younger and fitter you are, which makes it a good idea not to delay. Your profession, lifestyle and even things like your parent's health will all influence what you pay, as will the level of cover you choose.
Getting professional help to ensure that your cover is tailored to your needs, and you have the level of protection you need is essential.
The Financial Conduct Authority does not regulate tax and trust advice.
Get in touch
If you would like to discuss further please call us on 0345 643 0770, email us at [email protected] or click on the 'Contact Us' link below. Thank you.
Related articles