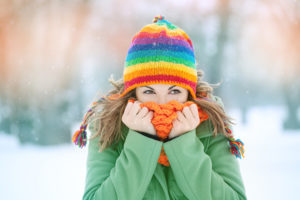 The sudden onset of Siberia-grade weather may have meant a few days working at home for some – but for many people it means having to brave dangerous roads and icy pavements.
It is (almost) impossible to insure against the British weather. But it may be possible to give yourself valuable insurance protection for the worse the ice and snow can do.
Accidents will happen
Ice and snow mean that roads and even payments can be treacherous. A fall can mean an injury that could put you out of action for weeks, and an accident in a car could be even more serious.
If you have a sympathetic employer, you might expect your salary to keep coming in while you recovered from an accident, but not all of us will be in that position.  Bills don't stop coming in if you are unable to work.
Income Protection cover is designed to help.
Providing an income when you can't
Short-Term Income Protection, or Accident, Sickness and Unemployment cover, can pay out if you re unable to work for most medical reasons for up to two years, or until you are fit to work again. There are many different types of policies, including Payment Protection and Mortgage Payment Protection cover, and despite the bad publicity for mis-sold payment protection in recent years, they can provide vital help if things go wrong.
Most Short-Term Income Protection policies can include the option of cover you if you are made redundant.
Long-Term Income Protection, obviously, provides longer term cover. It may provide a regular income if you are unable to work because of accident or illness, and last until you are well enough to return to work or until your retirement age.  Most Long-Term policies don't cover redundancy.
When things are more serious
Of course, accidents and illness can mean more than injury. We need life assurance to provide a cash lump sum in the event of our deaths. This could pay off the mortgage, helping your family stay in their home or even provide an income.  But although you probably already have cover, it needs to be regularly reviewed. The growing cost of living means that the lump sum you felt would be sufficient 10 or 20 years ago can seem less than adequate now.
If you are the main breadwinner, you should think about how your family could manage without your income every month. It may seem like a daunting sum to find – but by understanding the types of insurance available, you can arrange the cover your loved ones need.
Practical help with medical costs
The NHS can do a great job in an emergency, but we all know that its resources are stretched. If you have an accident and need to see a specialist to discuss your recovery, or need treatment such as physiotherapy, you could face painful weeks of waiting.
Private medical cover could help you cut the delays, get treatment in a comfortable private hospital, and get you back to full health, and work, quicker.
All round protection
Private medical cover could be part of an all-round bespoke personal protection plan, tailored for your needs and designed to provide all round security with accident, life and illness cover.
Getting the cover you need for the best price is easier with some expert help. At Continuum, we are ready to provide the expertise you need.
Get in touch
If you would like to discuss further please call us on 0345 643 0770, email us at [email protected] or click on the 'Contact Us' link below. Thank you.
Related articles