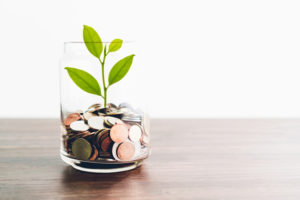 With the lowest interest rates on savings for years and inflation running at around 3%, saving has started to look like an expensive luxury. The cash you put away is worth less in real terms when you withdraw it.
But if you can't kick the habit that you started with your first piggy bank there is some good news. Saving may be becoming worthwhile again.
Inflation may be falling
According to the Office of National Statistics the UK Inflation rate peaked at 3.1% towards the end of 2017, as a falling pound forced up the price of imports.
However, the price hikes have slowed as the effects of the weak pound have spread through the system.  The rate of inflation fell to 2.5% in March. This is still higher than the 2% the government aim for, but it does represent a fall.
It also means that if you have cash savings, it might just be possible to grow them again, instead of watching them evaporate.
Rates may be on the up
To find the best returns you will probably need to look at long term fixed rate accounts. These require you to lock your money away, for a set time.
2.7% may currently be achievable.  You may need to commit to saving for up to five years to get that kind of rate, but if you do, you may beat inflation, especially if really does continue to fall as predicted.
Five years is a long time to lock up your money. Most accounts will let you take your capital back if you need it sooner than you thought you would, but this will probably mean losing some or all of the interest your money has earned.
Remember, rates may be on the up in general – it is worth checking regularly to see who will offer the best deal for your cash.
What if you can't commit to long term savings?
Some current accounts can appear to offer sign-up rates better than term accounts. But these are promotional and may only last only a few months.  There may be low ceilings on how much you can actually save.
You need to become a tactical saver. Spread cash between accounts to earn the maximum on each one. Keep an eye on the best offers and move funds as soon as a better rate appears. 
Savings vs Investment
With savings, your money will remain as cash, and will be lent out by the bank or building society to individuals and businesses, who pay substantial interest. The financial provider passes a proportion of the interest back to you.
Savings are safe. Returns are guaranteed, and the Financial Services Compensation Scheme will protect the first £85,000 you hold with any one bank or building society if it goes bust. With investments, your money is used to buy something such as shares in a business. The value of investments can fall as well as rise and there are no guarantees that you will get back what you put in.
If you want help with making the most of your money with savings or investments, you need expert help. At Continuum, we would be pleased to provide it. Our online rate finder tool could be a very good place to start and will let you see the best rate available.
The value of investments can fall as well as rise and you may get back less than you invested.
Get in touch
If you would like to discuss further please call us on 0345 643 0770, email us at [email protected] or click on the 'Contact Us' link below. Thank you.
Related articles