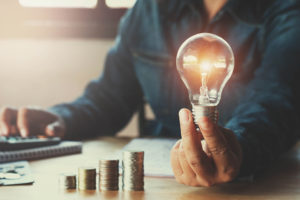 If you are looking at buying your first home, you'll probably find that building up your deposit is the hardest part of the process – at least until you come to decide on which new home to buy.
You don't want to jump at the first thing you see with four walls and roof. You need to explore what's out there and be selective. So where should you put your deposit while you shop around?
Make your money work for you
Your money needs to earn its keep. Inflation may have fallen from its recent high of 3%, but it is still high and very definitely still eating away at the value of your savings. The longer your deposit waits the more of its buying power is lost.
You need your money to work for you. Usually this means investments, but if you are intending to spend this money on a deposit it's better to leave it in cash than invest it.
This is because the value of investments can go down as well as up. In the short term, this can be very dramatic, and potentially very costly. Investment only looks like a good idea when you can put your money away for a minimum of five years.
This is obviously too long when you are house hunting. It follows that you need to keep your money as cash and to find the savings account that pays the best returns on it.
Unless you have been stuffing notes into the mattress, your money is probably in one or more accounts already. You need to be sure that the accounts you use deliver the best rates of interest.
Security
You may have saved anything from £30,000 to £100,000, and obviously, you want complete security for it. By keeping your deposit as cash savings, rather than an investment you can enjoy the protection of the Financial Services Compensation Scheme should anything happen to your bank, building society or credit union. But there is a limit of £85,000 on each account – if you have saved more than that, consider spreading it across various accounts.
Shop around
To find the best returns you need a constant eye on comparison sites. The results can be surprising. Some current accounts offer sign-up rates better than notice accounts, traditionally the most rewarding. But be careful. Some headline rates last only a few months.  There may be low ceilings on how much you can actually save.
You need to become a tactical saver. Spread cash between accounts to earn the maximum on each one. Keep an eye on the best offers and move funds as soon as a better rate appears.
Don't forget the help to buy ISA
If you have not already done so, you could take advantage of the governments generosity with a Help to Buy ISA. For every £400 you put in, the government will put in £100. This outstrips the interest you could earn from any savings account. You will have to wait 12 months before buying and with a contribution limit of £2400  (plus an initial £1200) a year you can't put in enough for your entire deposit, but the temptation to get money from the government is hard to resist.
If you want help with making the most of your money with savings and investments, you need expert help. At Continuum, we would be pleased to provide it.
The value of investments can fall as well as rise and you may get back less than you invested.
Get in touch
If you would like to discuss further please call us on 0345 643 0770, email us at [email protected] or click on the 'Contact Us' link below. Thank you.
Related articles