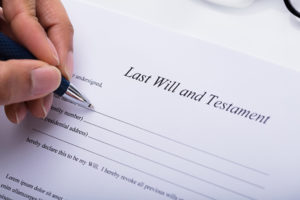 Making a Will is not just a matter of deciding who gets what when the time comes. It can be a key part of organising your inheritance so that the taxman does not help himself to any more of your wealth than is absolutely necessary.
In fact, if you don't make a Will, the law decides what happens to your worldly goods under the rules of intestacy, which will probably not fall in line with your wishes. 
But how should you go about it?
Should you DIY?
It is perfectly possible to write up a Will yourself. You can get a form from WH Smiths or the Post Office. It comes complete with basic instructions. However it is worth noting that misunderstanding legal terms, failing to ensure the Will signing is witnessed properly, or providing information that isn't detailed enough could all make your Will invalid.
If you feel you could do with some support, there are a number of charities who regularly offer help with drawing up Wills. Their support will be free, although you may feel some unstated suggestion of including a bequest to the charity when your Will is final drawn up.
There are also online services which can automate the Will writing process, and which can provide interactive support.
Getting a solicitor to help
A solicitor will charge for his or her services, and the charges will vary.  You have the peace of mind of knowing that your Will is likely to stand up in court. You will also be able to call on professional advice, which is particularly important if there are any complications.
So, if you are not married to your partner, if you and your partner have children from previous relationships, run a business or have multiple properties, getting a solicitor is vital.  You'll also benefit from regulatory protection and help from the Legal Ombudsman if you get a solicitor to draw up your Will.
Keep up to date
Once you've drawn up a Will, you should ensure it remains up-to-date. If you get married, have children, or get a divorce, it's likely to need changing. It makes sense to review your Will every few years to check it remains in line with your wishes. You may be able to add a codicil, which is usually cheaper than writing a new Will.
Making your will work for you
But your solicitor is not the only professional you need to involve. He or she will be an expert on the law, but on matters of tax and estate planning, you need a financial expert. Fortunately, there are several ways to reduce the amount of inheritance tax your estate is liable for, and your will can be the key to locking more your money out of reach of the taxman.
At Continuum, we can help with all your estate planning needs.
The Financial Conduct Authority does not regulate wills, tax and trust advice.
Get in touch
If you would like to discuss further please call us on 0345 643 0770, email us at [email protected] or click on the 'Contact Us' link below. Thank you.
Related articles