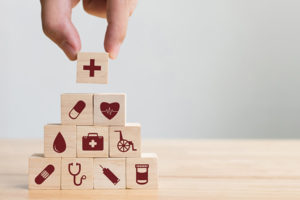 With the London Marathon this weekend, we look at private medical insurance, how it can provide a valuable safeguard, and even reward you for looking after your own fitness.
What is health protection?
There are various types of insurance offering health protection.
Critical illness cover pays out a tax-free lump sum if you are diagnosed with an illness or a specified medical condition. You can also choose accident and illness cover, which is designed to replace an income until you are well enough to return to work.
But private medical insurance is becoming increasingly popular, both as a company perk, and as something individuals and families provide for themselves.
Its purpose is very simple. It is designed to cover the costs of private healthcare, from diagnosis to treatment. It helps ensure that you will receive medical treatment as quickly as possible and where you want.
While the NHS will usually provide treatment and will be the first point of call in an accident or emergency, it can mean long waiting lists.  Most private plans provide treatment in a well equipped and comfortable private hospital, ensuring prompt treatment and faster recovery.
The different types of cover
Health cash plans will contribute towards your routine healthcare costs. They pay out a cash sum whenever you visit a medical practitioner, such as a dentist or optician, which can help you deal with their costs.
Private medical insurance policies tend to be more expensive. You pay a monthly premium and the policy will pay out, up to specified cover limits, for any treatment you might need.
Some are comprehensive, covering private diagnosis, treatment and aftercare for all your medical needs. Costs tend to be high.
Others let you reduce the costs by providing treatment and care only. You can be diagnosed by your GP under the NHS, but referred to a private consultant, and receive treatment in a private hospital if you need it.
Lifestyle health cover
The importance of having a healthy lifestyle is hard to ignore these days.  Some health protection policies are designed to encourage it.
Some provide discounts on gym membership and fitness aids such as Fitbits – and incentivise their use. Going to the gym regularly or taking the prescribed number of steps can mean valuable extras, building the fitness habit and providing financial incentives, such as discounts on cinema tickets at the same time.
Some providers make their service part of an individual healthcare plan, giving you access to individual fitness plans, online Health Reviews and personal fitness targets.
What you should check for?
Premiums on medical insurance policies tend to get higher the older you are, and if you have previous medical conditions they are likely to be excluded.
You should also check exactly what benefits the policy you are interested in will pay for. With a very low cost plan, for example, you may only be covered for hospital admission costs, and not out-patient costs. Always read the small print to check if any particular illnesses and treatments are excluded.
Many policies charge an excess – the portion of any claim you must pay yourself. This can help keep costs down, but you may find that you pay for a great deal of treatment without ever passing the excess level and receiving any benefit from your policy.
For help with getting the health protection you need, and integrating it into an all-round protection plan, you need individual advice.
There are other providers of Short-Term Income Protection and other products designed to protect you against loss of income. For impartial information about insurance, please visit the website at www.moneyadviceservice.org.uk.
Get in touch
If you would like to discuss further please call us on 0345 643 0770, email us at [email protected] or click on the 'Contact Us' link below. Thank you.
Related articles