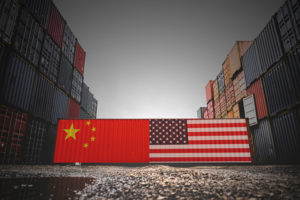 Donald Trump's promise to make trade fairer for the US has led to conflict with some of America's oldest trading partners. He has imposed – or threatened – taxes on imports from China, Mexico, Canada and the EU in attempt to support American industry.
Naturally enough, those countries have all promised to retaliate, sparking fears of an all-out trade war. It looks as though things could turn particularly difficult with China.
The opening of hostilities
In June, the US launched the first salvo, with the imposition of tariff on $50bn worth (equivalent to around £38bn) of Chinese goods. Last month, a longer list of Chinese products were hit with a 25% tariff, making them 25% more expensive for US consumers, aiming to force American consumers to buy American made goods.
In retaliation, China has hit a number of US exports with tariffs of their own.  Its commerce ministry promised to "fight back firmly". Cars such as Tesla and Chrysler, medical products and most significantly American agricultural produce were all hit, with a total of 545 products now subject to import taxes.
Collateral damage
Unfortunately, the global economy has become a great deal more complex since protectionism was last seriously tried in the 1930s.  China is a major exporter of technology goods, like the semiconductor chips vital for everything from televisions, personal computers, smartphones, and cars. Around 90% of the products on the US tariffs list are supplies and components used in the US to make other products.
The effect on China may be substantial- but US industry will suffer as well if key parts can no longer be supplied. Companies like Apple, which produces a high proportion of its phones in China are particularly at risk.
The effects of this may already be seen on stock markets. US stocks fell after the tariffs were imposed and the Dow Jones Industrial Average turned negative for the year as the US-China trade dispute rattled the markets.
Retaliation
It is true that the US has a deficit with the rest of the world, and imports more than it exports, amounting to a trade deficient of $500 billion dollars.  In fact, the US buys nearly four times as much from China as it sells.
This limits China's opportunities for retaliation through trade. Putting higher taxes on, for example, the import of Cadillacs might do very little to distress the US car industry (although it might benefit China's own burgeoning automakers).
Some commentators speculate that China might even devalue its currency. A lower-value yuan would be a powerful weapon in a trade war. It would make it cheaper for foreign buyers – including those in the US – to buy Chinese exports. It would go some way to repairing the damage caused by the US import taxes, by putting prices back down.
Escalation
Obviously the US and China's economies are most at risk as the trade war escalates, but they're not the only ones in the firing line.  Companies throughout Asia that sell goods and material to China to sell on to the US are all under threat.  Countries like South Korea, Singapore and Taiwan could be particularly vulnerable, but the rest of the world could suffer.
Peace talks
The best we can hope for is that both sides will see that a trade war has no winners, and sit down to negotiate an honourable – and profitable – peace.
For the rest of us, sitting down with a member of the Continuum team to discuss the impact of a trade war on our investments might be a sound tactic.
The value of investments can fall as well as rise and you may get back less than you invested.
Get in touch
If you would like to discuss further please call us on 0345 643 0770, email us at [email protected] or click on the 'Contact Us' link below. Thank you.
Sources:
bbc.co.uk – How a US-China trade war could hurt us all – 5th July 2018
bbc.co.uk – US-China trade row: What has happened so far? – 21st June 2018
brookings.edu – order from chaos – 9th July 2018
Related articles