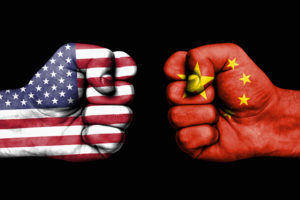 With Syria, Russia and North Korea never far from the news, the international scene seems to be looking more tense than it has in several years.
But is the real danger not flying missiles, but a trade war between the US and China?
US vs China?
President Trump was elected on a promise to make America great again. One of the foundations of this promise was his policy of supporting US industry, and in particular erecting barriers against the products of other countries which undercut US business.
In practice, this meant China. In his first shot the President imposed tariffs on imports of steel and aluminium, but exempted imposts from most countries apart from China.  Alcoa, Nucor and United States Steel may have welcomed the move and may be looking at boosting domestic production as a result. The world's second largest economy, however, struck back with tariffs on a whole range of US goods including wine, pork, and fruit.
Is this the first battle in a trade war?
Some commentators are concerned that this may be the first step on a slippery slope that leads to full-blown protectionism, a collapse in the global economy and a return to the depression of the 1930's.
Fortunately, most take a more optimistic view.
It may be that the main purpose of the tariffs is simply to impress Trump's supporters, and act as the first stage in President Trump's much-vaunted negotiation and deal making. Certainly, the actual figures involved are small. Last year, the US imported around of $3bn (£2.12bn) of steel and aluminium from China. That's less than 1% of total US imports of Chinese goods.
China's retaliation is aimed at about the same level. This gives a distinct impression that these tariffs and threats are all for show.
Of course, the skirmish could still escalate. The President has proposed additional tariffs on Chinese goods to end what he calls the theft of American intellectual property, essentially technology and copyright which is freely, although illegally, copied by Chinese businesses.
These tariffs would have a much greater effect. China has already suggested retaliatory tariffs cover more than one third of the goods it currently buys from the US.
This might sound more serious. Protectionism in the US could lead to slower global growth if more countries join in building barriers to international trade. But we should remember that most of the new prosperity of China is built on the willingness of the U.S. and Europe to buy its products. Neither China nor the US wants, or can afford a trade war.
Peace talks?
Fortunately, both sides are talking through the World Trade Organisation (WTO) rather than escalating the problem.
The WTO has a good record of finding solutions. They certainly did the last time the US proposed steel tariffs, under then President George W Bush.  The markets obviously seem to think that they will be able to do so again, as despite a few wobbles, there is be very little concerted reaction from investors to the brave talk on tariffs.
It looks as though there is no need to panic.
What should you do?
Remember, trade war or not, your investments need not be international to be affected by international events. Many of the companies that make up the FTSE 100 do business on a global basis.  So it is always good to have an ally with the international expertise you need with your own investment strategy. Naturally, at Continuum, we can provide the strategic help and advice you may need.
The value of investments can fall as well as rise and you may get back less than you invested.
Get in touch
If you would like to discuss further please call us on 0345 643 0770, email us at [email protected] or click on the 'Contact Us' link below. Thank you.
Related articles