Client Satisfaction Survey – The results are in
CLIENT SATISFACTION SURVEY – THE RESULTS ARE IN
The interaction and support we provide our Clients on a daily basis is a key foundation of our business and has been evidenced in particular throughout the COVID-19 pandemic. Our survey conducted in February 2021 showed that an incredible 91% of clients rate their Continuum Adviser 8 out of 10 or over, with over 93% of these clients happy to recommend to their friends or colleagues. We would like to personally thank all of our clients for their continued support. If you're new to Continuum and need help with your financial future, speak to us today.
BOOK A FREE CONSULTATION
Download our guide to tax-efficient investing
Building your investment is one of the most fundamental strategies. Our guide shows you how to manage your investment tax-efficiently.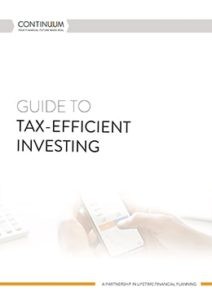 Survey conducted in February 2021, based on a scale of zero to ten, with anything over eight being a recommendation. A total of 653 of our clients were surveyed.