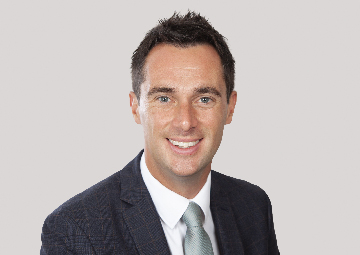 Curtis Netherway is the latest professional to join the growing Continuum team. We look at his reasons for joining us – and his hopes for the future.
Chartered Financial Planner Curtis Netherway joined the Continuum team on 1st January 2022 and is excited for the year ahead.
It means a big step forward both for Curtis, and for his existing clients.
"The foundations of providing Independent Financial Advice – responsiveness to clients needs a willingness to go the extra mile and taking the long-term view may not be changing – but the way we provide advice is. It has become essential to embrace new technology to offer the service clients want and deserve, and the best way to do that it is to work with a modern, forward-thinking firm with the expertise and resources required."
But simply joining an established business was not going to be the solution he was looking for. "It was vital that I could remain completely independent. My existing clients came to me because they knew that I could provide them with unbiased advice. I want to ensure that I can continue to do that both for the people who I have worked with in the past, and who continue to depend on me now, and for those I will meet and work with in the future.
Joining Continuum lets me do that. I can continue to provide independent unbiased advice and whole of market resources – but with the support of a progressive and exciting team, I can do even more for them."
Curtis will continue to work in and around his native Barnstaple, but with clients all over the South West region.
What is he particularly looking forward to as part of the Continuum team?
"First and foremost, I'm looking forward to helping a growing list of personal and corporate clients with all aspects of their financial planning. I'm a Chartered Financial Planner, which means that I can help with the full range of financial needs. With my specialist knowledge, and the extra scope provided by Continuum support, I can provide many more people with the help they need when they are thinking about their financial future''.
Curtis began his advisory career with NatWest, but saw that becoming an Independent Financial Adviser really could mean better outcomes for his clients.
"As an IFA I saw that I would be able to put my clients first, and, calling on the most suitable products from across the entire market to answer their needs."
It was an approach that made joining the Continuum team the logical next step in his career.
"It's clear how much Continuum invest in technology and support for their advisers. Yes, it helps with the routine aspects of what I do, but its real benefits are that it allows for an outstanding customer experience. It also means that I have more time to spend with my clients to help them achieve their goals and objectives."
Continuum's Managing Partner Martin Brown welcomes Curtis to the team. "We have always put client needs at the heart of what we do at Continuum. The approach that Curtis takes is the perfect match for our own. We are very pleased to have him – and his experience and enthusiasm – join us. Both Continuum and our clients – present and future will benefit from the skills that he brings."
Last word goes to Curtis. "I have a long career ahead, so preparing in the best way possible for me to help existing and new clients is vital.
Continuum is both a very friendly and highly professional team, that sets high standards for the services it provides. I'm very fortunate to be joining them – because working with Continuum will help me do more for my clients."