Guide
Top Tips to Manage Your Cash
I understand Continuum (Financial Services) LLP will ask for personal information, to include phone number and my estimated investable assets. Your privacy is extremely important to us. We will never sell your information to a third party. Read more in our privacy policy. I can opt out of communication at any time here.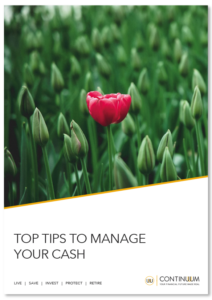 Why you should download it?
It includes our free

Budget Planner

, with which you could begin saving in a more efficient way.

You will learn how to set your budget.

It will show you how to deal with debt.

We will explore some other options you should consider to make your cash work harder.
Take a look at all our guides
Our financial planning guides give you more information on the many ways we can help you achieve your goals.
Find out more