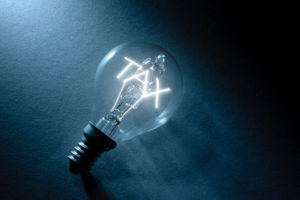 Pension freedoms have given us many new ways to access our pension pots.  Some are straightforward – but others can leave you out of pocket through no fault of your own.
We look at emergency tax on pensions, and at how you can claim it back.
Have you taken cash out of your pension pot?
Being able to take cash out of your pension pot has become key to pension freedom. Having cash to pay off the mortgage, treat yourself, or simply pay off debts can all help get retirement off to a good start.
More than one and a half million people have together have taken more than £17 billion from their pension funds since pension freedoms were launched in April 2015. But many pay too much tax on their withdrawals.
You don't need to pay tax on all the cash you take from your fund. The first 25% is usually tax-free, but the rest is counted as income. So if your income is £20,000 and you withdraw your entire fund of £20,000, the first £5,000 is tax-free and £15,000 will be added to your income and taxed.
But as so often with tax, things are not that simple. If you draw a large amount in a single month you are likely to be taxed at a higher, emergency rate.
Government figures suggest that many taxpayers simply do not know about the overtaxing problem, or simply give up when faced with government bureaucracy.
However, a total of £283 million of overpaid tax has been refunded. No matter how much you have been overcharged, you can get your money back. The average overpayment reclaimed is more than £2,000 and if your pension fund is large, you could be overtaxed by tens of thousands of pounds
How to get your refund
There are two ways to get your refund. You could wait until the end of the tax year, and hope that after comparing your tax return with their estimated figures, HMRC will realise that your annual income is not what it had calculated. If all goes smoothly, you could get a tax rebate.
You would probably like to take a more active approach, which could get your amount refunded right away.
To reclaim this kind of overpaid tax, you have to fill in a form, which you can find on the Government website. The procedure can seem difficult, as there are different forms depending on your particular circumstances, but it can be worth a few hours of frustration to get thousands of pounds of your money back in your bank account. If you have a government gateway account, you may be able to speed things up a little by sorting everything out online.
There have been many calls for a simplification of the tax system, and the government may be listening. But until reforms are made, tax will remain a maze. Fortunately, it is easy to get the help and support you need, whatever your tax questions. Simply call us at Continuum.
The value of your pensions and investments can fall as well as rise and you may get back less than you invested.
Levels and basis of reliefs from taxation are subject to change and depend upon your personal circumstances.
Tax planning is not regulated by the FCA.
Get in touch
If you would like to discuss further please call us on 0345 643 0770, email us at [email protected] or click on the 'Contact Us' link below. Thank you.
Sources:
saga.co.uk – Watch out for the pensions tax – 15th May 2018
citywire.co.uk – Gov't report calls for end to emergency tax on pension withdrawals – 29th May 2018