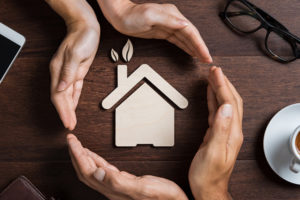 Your mortgage is an investment for the future, and none of us knows what the future holds. This is of course why it is essential to get mortgage life cover, which will pay off the mortgage in the event of our death. It provides protection for our loved ones, and for the mortgage company, who know that they will be repaid.
But if you buy your life cover from your mortgage provider, you are also providing them with a handsome extra profit. The chances are that you could get the same cover for very much less.
What cover do you need?
Mortgage life insurance or assurance, also known as mortgage protection pays out if you die before you finish paying off your mortgage. It ensures that your dependents don't need to worry about the monthly repayments.
There are two types to consider.
Decreasing term life cover is the most common. As time passes, and your mortgage debt reduces, the payout on death also reduces with it. Your dependents can have the money to pay off the remaining mortgage, but because you don't pay for cover you don't need, your premiums decrease as the level of cover goes down.
Level term cover pays out a set lump sum during the mortgage term. If you have an interest only mortgage, where the amount you owe does not decrease, you should consider this type of cover.
Whatever type of insurance you have, you need to ensure that your cover is large enough to pay what is left outstanding. A £250,000 mortgage debt needs £250,000 worth of cover.
What if you don't take out mortgage life insurance?
If you died during the mortgage term without cover your estate is responsible for any outstanding debt you leave behind. If there were not enough funds to pay your mortgage, the lender would repossess the property, sell it and return any extra money to your estate. If you were to die without cover and you had a joint mortgage, the mortgage would become the sole responsibility of the survivor. If you have no dependents and are single, you might not want cover – but in every other case, it's not something that you should skimp on.
Cutting the cost?
Your mortgage lender will be pleased to provide cover, and it can be easy to simply accept what they offer. However, if you use a comparison site you could find a similar level of cover could cost you very much less.
If you have had a policy for some years, you might be better staying with it, especially if you have had health conditions. Each insurer has their own rules on pre-existing medical conditions. If you've had health issues, it's worth speaking to a broker, who will know which insurers might be prepared to give you the best rates.
Don't let the taxman grab it
If you died your mortgage life insurance would be part of your estate, which could mean it would be liable for Inheritance Tax. You might avoid this by writing the policy in trust. If you write in trust the insurance pays out directly to your dependents, so it never becomes part of your estate, which avoids inheritance tax and speeds up the payout.
Of course, anything that involves mortgages and inheritance is too important to leave to chance. Getting help is essential. At Continuum, we are always ready to provide it.
The value of investments can fall as well as rise and you may get back less than you invested.
Your home may be repossessed if you do not keep up repayments on your mortgage.
Estate planning is not regulated by the FCA.
Get in touch
If you would like to discuss further please call us on 0345 643 0770, email us at [email protected] or click on the 'Contact Us' link below. Thank you.
Related articles