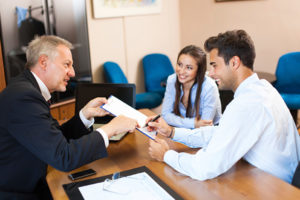 Craig Parkinson is a mortgage specialist. He works in Hailsham, East Sussex.
Craig talks about his experience of helping clients to get the most from their time with advisers and gives his inside knowledge on how to get your mortgage offer faster and first time.
Regulation surrounding mortgages has become so strict (and rightly so) that being better prepared at a first meeting with a new client is really important for me. I collect as much information as I can about a client before we meet, so that I can prepare for the kind of questions I am going to be asked.
For you to get the most from your first meeting with your new adviser, or even your bank/building society manager, it's worth taking some time to do the same.
Coming to a meeting prepared puts you in control. When you meet an estate agent for the first time, you know exactly what you are looking for and you can describe your dream home.
It will help you make your dream a reality, if you can get yourself to the same place when you come to arrange your home loan to buy it.
What is your credit status?
You will need to get a credit report for the named borrowers. Most lenders will run a credit check on anyone that will be living in the property over the age of 18. On occasion a lender can decline cases where a family member living in the property has poor credit history, even if they are not a party to the mortgage.
You will need to know the exact balances outstanding on your debts and provide that information to the lender. They need to be sure that you 'look after' your debt and are in control.
Saying 'I owe around £8,000 on that loan' won't be sufficient for the lender to see you are on top of the situation. Consider all of your credit cards, store cards and, overdrafts too. Not just the big loans.
Most lenders use Experian and Equifax for their credit checking. They are paid for reports. You can use a free service called Noddle. It could be worth doing 2 or even 3 reports to make sure you are not missing anything.
How much can you afford?
In previous years a rough guidance would be that a lender could lend between 4 and 5 times your income. However, new regulations mean that lenders have their own affordability calculator. They will assess income and outgoings along with how long you wish for the mortgage term to be over and make their lending decision based on these factors.
That's why knowing exactly everything you owe to the pound is so important.
All lenders will take your basic employed salary as income. How much overtime/bonuses/commission/allowances they will let you use varies by lender.
So, it is important to produce an accurate figure to hand at the outset with at least 3 months' worth of payslips. This will give a clearer indication on the exact amount you can borrow.
If you are due a pay rise in the next 3 months, something in writing from your employer could mean that a lender would use a future pay rise as your income and override the income showing on your payslip if you can produce sufficient evidence, like a letter from your employer.
If you are self-employed and are coming to a point where your accounts are soon due, especially if you know you will have earned more money, hold off until these accounts are finalised. It could mean you can borrow more or get a better deal.
Most lenders will average 2 or 3 year's net profit if you are self-employed, sole trader or dividends and salary if you are a limited company.
Lenders will normally ask for bank statements and go through them with a fine tooth comb. They will find anything that you should have made them aware of.
I am often asked if going for an expensive dinner would cause any issues. The simple answer to this is no – Lenders differentiate between essential expenditure, i.e. basic living requirements, bills and debts for example that must be paid and non-essential expenditure like the gym, going out to eat, which could be stopped if needed.
Are you credible?
A correct electoral role entry or being on the electoral role at a differing property than you stated you currently live at, may not seem that important. However, this again has been shown to be key to the lender. The fact you are on the electoral role rubber stamps to a lender that you live where you say you do and can negate the need for extra paperwork and the answering further questions. It takes a matter of minutes to sort out online by clicking here.
I don't want to worry you about getting a mortgage, but it has changed a lot since you last had to go through the process. It is still painless if you think about what the lender needs in order to lend to you and take a little time to prepare for your application. A good adviser will explain all this to you and make sure you have everything in place before making an application.
Craig works with clients to arrange the best possible mortgages that are absolutely right for them, from a wide choice of lenders. If you would like advice on your mortgage from Craig or one of his colleagues in your area, please contact us today.
Remember your home may be at risk if you do not keep up with the repayments for a loan or mortgage secured on your property.
Related articles