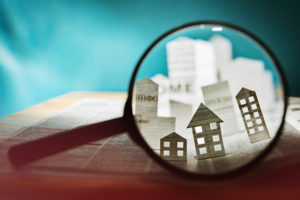 House prices have fallen for the last two months running, according to the UK's largest lenders. But there is no need to panic. Your biggest asset is probably not about to drop like the FTSE has in recent weeks. In fact, if you are ready to buy, you could enjoy an exciting opportunity.
The Halifax is Britain's biggest building society and provides an insightful monitor of real house prices. These are the prices at which properties are actually bought and sold and naturally somewhat lower than the asking prices set by ambitious sellers and enthusiastic estate agents.
Their most recent report said prices fell by 0.6% in January, following December's fall of 0.8%*. It is the first time since the summer of 2016 that prices have declined in two consecutive months.
But the real picture is much more complicated, and the price of your home is not set to fall significantly. Prices and trends vary greatly across the UK, but on an annual basis the Halifax has noted that the cost of homes is still rising – by 2.2%. That is the slowest rate of increase since July 2017, but it is still house price growth.
It looks as though the reported fall may simply be a combination of seasonal slowdown – houses don't sell well in winter – and a nervousness amongst potential buyers.
It is likely to be a temporary chill in an otherwise healthy market, but it could mean an opportunity to secure a bargain if you are ready to buy.
Why are buyers nervous?
Many people are finding their household finances are under pressure as consumer prices continue to grow faster than wages. Add to this the recent increase in bank rates with more forecast and many people are preferring to sit tight rather than commit themselves to an expensive house purchase. Uncertainty about the results of Brexit negotiations may be increasing their reluctance.
Fewer people are buying, a fact confirmed by figures from mortgage lenders. Although employment levels are widely reported as growing in recent months, and the global recovery is gaining pace, many people are simply not feeling confident.
But there are reasons to buy now
Buying now could mean taking advantage of the abolition of stamp duty on purchases of up to £300,000, for first time buyers, and of mortgage interest rates – which despite the recent rises are still at historical lows.
But the real reason to think about buying now is that it may be possible to secure a bargain. Sellers who really need to sell are dropping their prices, as the current dip suggests. This means that if you are in a position to buy, you may be able to secure the home you want with an offer below asking price.
Owners of homes which have been on the market for a while may be especially receptive to a lower offer.
What should you do?
If you are ready to start thinking about taking advantage of the current market conditions, you may need to act fast.
Your first step might be to look at the homes available in your area, and look again at those which you feel might be a little above your price bracket. A call to the relevant estate agents might indicate those who might be receptive to an offer.
Your next step might be to get some expert advice on finding the best mortgage for your particular needs. The best way to get the help you need is to talk to us at Continuum.
Your home may be at risk if you do not keep up repayments on a mortgage or other loan secured on it.
Get in touch
If you would like to discuss further please call us on 0345 643 0770, email us at [email protected] or click on the 'Contact Us' link below. Thank you.
Sources: 
Halifax.co.uk – January 2018 House Price Index – January 2018*
Related articles