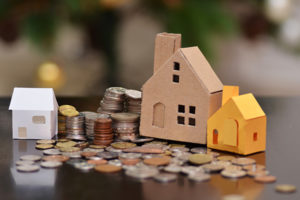 It's easy enough to get market prices for equities and other investments. You can watch the FTSE go up and down on your phone. But keeping track of what is probably your biggest investment of all, your home, can be a little more difficult.
Getting up to date information is a challenge because every home is individual, rather than a commodity traded on an electronic exchange. The best view of the market is probably from building societies, who have a realistic view of the real prices that are being paid when homes change hands.
We look at their latest figures, and see that things are still far from simple.
Growth – but how much?
According to the Nationwide building society, house price growth remained subdued in March. The annualised increase of 2.1% was down slightly from February's rate of 2.2%.
The Halifax, on the other hand, saw real growth, with prices in the three months to March 2.7% higher than a year earlier, up from the 1.8% annual growth recorded in February.
The figures were a boost for the market after months of lacklustre growth and the actual declines in December and January reported by Halifax.
Why is there a different picture from these two leading lenders? One reason may be because the UK housing market is behaving differently across different regions. Both agree that there is a positive overall trend, with some areas enjoying a real boom. The Nationwide saw Northern Ireland prices increase by 7.9% in the first quarter of 2018 compared with the same period a year ago. Wales enjoyed gains of 6.1% over the same period.
But there is one significant region that is not.
Down in London
Surprisingly, despite a buoyant economy, the Nationwide's figures show that it is London property that is falling. The Halifax has not yet released regional figures, but they are likely to also show a decline in prices across the capital.
This may have begun as a dose of realism for overly ambitious vendors of multi-million pound properties, but it may be spreading. A survey by YourMove, one of the UK's biggest estate agency chains showed that house prices in prime parts of the capital had tumbled over the past year, with Hammersmith and Fulham falling nearly 14%.
But to put any falls into perspective, London and nearby towns remain the UK's most expensive places to buy. The average house price of £331,047 – twice as much as the typical price of £163,138 in the north of England, and significantly above the £227,871 average for the UK as a whole.
What is really happening?
The London market was undoubtedly overheated, and a correction was overdue. There seems little danger that the rest of the country is following its example.
But both the Halifax and Nationwide agree on one thing. People are simply not moving as often they used to. This is despite mortgages at their most affordable level in a decade, (accounting for 29% of disposable income in the fourth quarter of 2017, compared with 48% in 2007 according to research from the Halifax). Figures produced for the BBC suggest that on average, people used to move 3.6 times after their first purchase. Now it is more likely to be twice, or 1.8 times according to the figures.
People may be waiting to see what Brexit holds and how interest rates will move. This means buying or selling a home may take a little longer than previously, even if it does still look to be a sound investment.
Whether or not you are planning on moving, it is important to have the best mortgage deal. At Continuum, we would be pleased to help.
Your home may be at risk if you do not keep up repayments on a mortgage or other loan secured on it.
Get in touch
If you would like to discuss further please call us on 0345 643 0770, email us at [email protected] or click on the 'Contact Us' link below. Thank you.
Sources:
nationwide.co.uk – House Price Index Report – March 2018
halifax.co.uk – House Price Index – March 2018
bbc.co.uk – Moving home is 'becoming a rarity' – 27 March 2018
lsl property services plc – House Price Index – 15 January 2018
Related articles