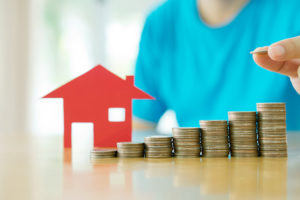 According to a recent report from estate agent Hamptons International, a single first-time buyer in London needs 17 years to build up 15% deposit for their first home.
Waiting until 2035 to get a home of their own, by which time their own children could be getting ready to fly the nest is not a prospect that most potential home buyers would enjoy.
The wait is a little shorter across England and Wales, where the average single first-time purchaser would need just over 10 years to save up a deposit, according to the report. It seems that saving enough for a deposit is still the biggest barrier to getting on to the property ladder.
The report looks at how long it would take to build a deposit based on how much money first-time buyers have left after tax, national insurance, rent, council tax and the inevitable food, transport and utility bills. It assumes they can save 22% of what is left towards a deposit.
You could be looking at many years of no holidays and beans on toast for dinner to get on the housing ladder.
But fortunately, there are ways to speed things up.
Don't do it alone
A single person is at a disadvantage when it comes to saving for a deposit. Couples have the edge over single people, with two incomes, but only one set of costs. Sharing rent and everyday household costs such as food and bills means they can save the same amount in less than half the time it would take a single buyer. The report suggests the average couple getting ready to buy in London would need eight years to save up a 15% deposit, while for England and Wales as a whole it is five years.
It might make sense to buy as a couple, even if you are not romantically involved.
Get some help
Any help you can get to build that deposit faster could be worth considering. The Bank of Mum and Dad have become a powerful force in the mortgage market. If your personal branches cannot help you build the deposit you want, you may be able to take advantage of some support from the government.
Saving a 5% deposit rather than 15% is a much more realistic goal for many buyers and can obviously be done in around a third of the time. The government's Help To Buy programme includes equity loans, which sees the government lending a buyer up to 20% of the cost of their newly built home, with a 5% cash deposit and a 75% mortgage making up the rest.
There is also the Help to Buy ISA, which gives first time buyers a government bonus up to a maximum of £3,000, boosting savings of £12,000 to £15,000. It helps make your savings grow faster, whichever level of deposit you are aiming at.
Alternatively, Help to Buy Shared Ownership offers you the chance to buy a share of your home (between 25% and 75% of the home's value) and paying rent on the remaining share, buying the rest later. Both government and local schemes exist.
You can find out more about the government's schemes here, but it might make sense to talk to an independent expert about your mortgage plans. At Continuum we would be pleased to help.
Your home may be repossessed if you do not keep up repayments on your mortgage.
The value of investments can fall as well as rise and you may get back less than you invested.
Get in touch
If you would like to discuss further please call us on 0345 643 0770, email us at [email protected] or click on the 'Contact Us' link below. Thank you.
Sources:
theguardian.com – Single first-time buyer in London needs 17 years to find 15% deposit – report – 25th June 2018
Related articles