At Continuum, our every day focus is on working with our clients effectively to manage their financial affairs. Our mission is to provide a complete financial planning experience, where the advice is uncomplicated, clear and at all times meaningful.
One of our key goals is therefore to engage with you regularly and gain feedback to ensure we continuously strive to deliver an exceptional relationship.
The trusted relationship between our advisers and you, our clients, is a key foundation of our business. We believe that by putting this relationship at the very heart of our business we are able to provide you with the level of service you deserve
We value and welcome your regular feedback as it helps us learn and develop our business. Once again, we have asked a selection of our clients to complete a short survey asking them how satisfied they are with their Continuum adviser, and also how likely they are to recommend Continuum to a friend or colleague.
Our survey conducted in February 2018, is based on a scale of zero to ten, with anything over eight being a recommendation. Over 650 of our clients were surveyed, with 94 percent of responders saying they were both satisfied with their adviser and would recommend Continuum.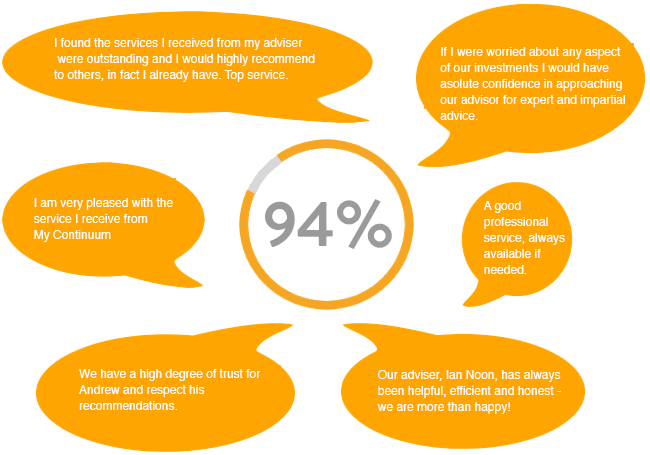 These outstanding results really highlight the value we place on developing the relationship between Continuum, the advisers and our clients.
We would also like to take this opportunity to share some fantastic award success. At the prestigious 2017 UK Business Awards held at Wembley Stadium, we were named Silver Award Winners of the Best Financial Services Company. The award is recognised nationally and we are thrilled to have received this accolade, which provides further recognition to our business.
At Continuum, our aim has always been to deliver the highest level of commitment and quality service to our clients and we would like to thank you all for your continued support.
Martin Brown, Managing Partner
Related articles