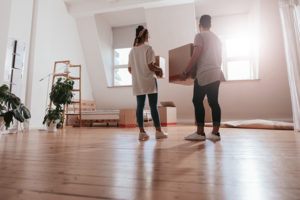 Those of us who can think back to the 70s and 80s may remember moving two or three times as we, or more likely our families, moved up the housing ladder.
It's a habit we seem to be getting out of. Online property service Zoopla's latest research shows that, on average, we now move home every 23 years. It's a far cry from the 80s, when on average we moved home every 8.63 years. It could be costing you money.
What has changed?
The pattern of people expecting to keep moving to a bigger or better home or more desirable location was much more common in the 1970s and 1980s than now.
There are several reasons why. A larger proportion of the population is older. They may have found a long-term home, paid off the mortgage and decided they have no reason to move on. This means that younger homeowners have nowhere to move up to. There are also additional costs. High house prices and Stamp Duty Land Tax which can now reach 12%, mean that moving home is more expensive than it used to be. Political and economic uncertainty can also mean worries about affordability.
Anecdotal evidence shows that young people who might once have moved out of the family home are still living there in their thirties, reducing the number of moves they make in their lifetime.
Whatever the cause, moving less may mean less social mobility and longer commutes. It may mean some positives like being more involved in the community. But it can certainly lead to paying more than we need to for our mortgages.
If you don't move home move your mortgage
Staying in one home means that many of us stay with the same mortgage provider until the mortgage is paid off. You mortgage provider will be happy about this, because they will take considerably more money. However, the chances are you could save by remortgaging – paying off your old lender and getting a better deal from a new one. You may be able to save thousands each year, and you don't need to move home to do it.
Staying with the same provider costs more, because most offer a low introductory rate. Whether you are on a fixed rate, tracker or discount mortgage this introductory rate will only last for one to three years, and you should not remortgage during that time, as it will mean a substantial penalty charge.  However, as soon it comes to an end, your lender will automatically put you on a standard variable rate (SVR) which will leave you paying much more each month. You should start looking around for a new deal from another provider a few months before your rate ends.
What's more, if the value of your property has risen since you took out your mortgage, you may own a much higher proportion of it than you did when you bought it. This could mean that you're in a lower loan-to-value band, and so eligible for even lower rates.
You can check the comparison websites for the best mortgage deals, but remember, the attractive rates only tell part of the story. Arrangement fees and other costs could mean your remortgage does not save you any money at all. Its best to get the help of an professional mortgage adviser, who can show you the real costs and find the best deal for you. At Continuum we would be happy to help.
Your home may be at risk if you do not keep up repayments on a mortgage or other loan secured on it.
Get in touch
If you would like to discuss further please call us on 0345 643 0770, email us at [email protected] or click on the 'Contact Us' link below. Thank you.
Sources:
zoopla.co.uk – How Often Do We Move House In Britain – September 2017
Related articles