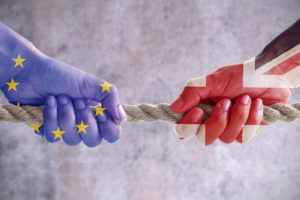 One of the most puzzling aspects of Brexit news has been the lack of it. We know we will be leaving the EU on Friday, 29 March 2019, but we don't know which way we are going. It could be a soft negotiated exit, or a hard Brexit that's painful for all concerned.
Mrs May's recent Mansion House speech may have changed that, and many observers think the news is good.
What did the Prime Minister say?
Most of us want Brexit to deliver prosperity and security and maintain relationships with the EU, while opening Britain to the world.
Theresa May seemed to be proposing exactly that in her speech, which offered  a pro-European Brexit. Britain will remain committed to European partnership and trade, but will simply be outside the EU. The EU stands to suffer just as much as the UK if Brexit turns ugly, which means that it is in the interest of Brussels to welcome Mrs May's stance.
"We know what we want… we have a shared interest in getting this right – so let's get on with it." Theresa May
Of course, the Prime Minister needs to compromise to limit negative economic consequences. The solution she is proposing seems to be that Britain will simply copy European standards and continue to trade with the EU on that basis.
This might not please hardline Brexiteers, who wanted to ditch every word of EU regulations, but Mrs May's blueprint does seem to offer a way to make Brexit as economically painless as possible. It will regain control of UK borders, while cutting the contribution to EU coffers, and provide the right to secure new trade deals with partners around the world. As for EU red tape, the proposal will mean that deregulation is possible, although it could be a gradual process, rather than a bonfire, and consequently easy to manage.
It could be the best way forward, offering economic stability for both the UK and our erstwhile EU partners.
What will the EU do?
If the EU reject this offer, a hard Brexit is inevitable. The question is, will the federal ideology win out over practical economics?
The EU is led by a Commission which is wedded to federalism, which may have been one of the factors that swung the referendum. The countries united under it may take a much more practical view and be inclined to support a Brexit that can reflect the interests of both sides. Dutch Prime Minister, Mark Rutte, has already warned his EU partners against becoming an "unstoppable train speeding towards federalism"
What if the federalists win?
Of course, as the referendum itself showed, it's impossible to predict how a vote will go. The hardline federalists could reject Mrs May's proposals in a bid to punish Britain 'pour encourager les autres.'
A hard Brexit would then still be on the cards. But some interesting facts have emerged – or been tactically revealed.
It seems that the UK economy may be very much stronger than assumed.  It emerged last week that the UK is running a current budget surplus for the first time since 2001, making tax cuts possible.  A cut in corporate tax rate, capital gains tax and income tax would make the UK look much more attractive for investment than the EU.
The prospect of a highly competitive Britain with low taxes and light regulation might give even the most hardline federalist reason to moderate their position on Brexit.
Whatever form Brexit eventually takes, it makes sense to ensure your finances are ready to deal with it. At Continuum, we would be pleased to help.
Get in touch
If you would like to discuss further please call us on 0345 643 0770, email us at [email protected] or click on the 'Contact Us' link below. Thank you.
Related articles