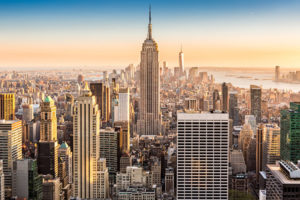 On this day 44 years ago, President Richard Nixon delivered his resignation speech. Today, President Trump may have troubles of his own.  But are things really as troubling for the world's largest economy – and hence the world – as the 'fake news' makes out?
If President Trump is consistent in anything, it is his ability to cause surprise and controversy. His handling of North Korea, which just might signal the end of a global nuclear threat and more than 60 years of hostilities caught even his harshest critics on the back foot.
At the same time, his decision to move the US embassy in Israel to Jerusalem rather than Tel Aviv seems almost calculated to inflame tensions. His recent visit to Russia left critics and advocates alike confused.
But if Trump is hard to predict on political relations, his approach to economic matters is downright bewildering.
Making America great again
Trump secured a majority by appealing to a blue-collar section of the electorate that successive presidents had ignored. Workers who had seen falling incomes and an uncertain future as the manufacturing heartland of the US decayed into a rust belt were inspired by his promise to bring jobs back home. Launching a trade war against the rest of the world seemed a small price to pay for renewed prosperity. But his policies, which include tariffs against China and the EU may not be having the effect desired. Far from bringing home jobs, they may actually be threatening US prosperity.
On one hand, the direction of the US economy looks to be positive. Employers are adding jobs; output and incomes are rising. But the President's policies might not be behind the success. He inherited an economy that had gone a long way towards recovery. During his administration, it has only grown at about the same rate it did before he took office.
What's more, a backlash may be coming. The tension over Donald Trump's threat to impose tariffs on a wide range of imports from China and the European Union intensified after German chancellor, Angela Merkel, said it threatened the incomes of workers across the world.
Merkel described possible US tariffs on imported cars as a breach of World Trade Organisation rules and "a real threat to prosperity". President Trump went on US television to say that he was ready to expand his tariffs $500bn, covering almost every Chinese import.
The war of words is starting to have some real casualties, and American companies are among them. Harley Davidson plans to move some production to Europe because retaliatory tariffs would make their bikes unsellable in one of their largest markets outside the US.  Soybean farmers face a loss of income resulting from new Chinese import taxes, and some factories may even be laying off people because of tariffs on imported steel.
The global economy has grown more complicated than the simplistic protectionism assumes. As Mrs Merkel pointed out, BMW's largest car factory is not in Germany but in South Carolina where it employs 8,800 workers.
Friend or foe?
But perhaps the real truth is not what meets the eyes. When President Trump described the European Union as "a foe" recently, he sent off shock waves, which he retracted in a tweet that Europe and America were "best of friends" What was on his mind was simply trade and that anyone suggesting otherwise was spreading "fake news."
Could it be that the President's real policy is to keep everyone – friend or foe – guessing about what his intentions really are? It could be a shrewd way to gain a negotiating advantage.
In uncertain times, it's a good idea to get expert advice about financial matters. At Continuum, we can provide it.
The value of investments can fall as well as rise and you may get back less than you invested.
Get in touch
If you would like to discuss further please call us on 0345 643 0770, email us at [email protected] or click on the 'Contact Us' link below. Thank you.
Sources:
nytimes.com – Trump Is Wrong About Trade. So Is Everyone Else. – 23rd July 2018
nytimes.com – If the Trade War Starts to Damage the Economy, Here's How You'll Be Able to Tell – 24th July 2018
theguardian.com – Trump's tariffs threaten global prosperity, warns Angela Merkel – 20th July 2018
nytimes.com – How Good Is the Trump Economy, Really? – 9th June 2018
Related articles