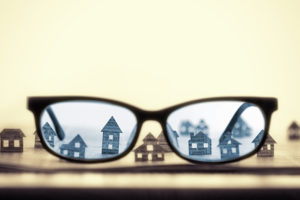 The UK housing market is, as always, in a state of flux. On one hand, prices seem to be rising out of reach of all but Russian oligarchs, and of the other, there are signs that those same prices have stagnated, or my even be falling. Estate agents are worried by falling sales. London estate agent Foxtons issued another set of grim results recently, while estate agency group Countrywide slumped to a full year loss of over £200 million.
The market is confused by Brexit, anxious over high costs, and unstable because first time buyers are priced out of buying altogether.
But there may be some good news for anyone planning to buy a first home in the next few years, for the market in general and especially for home builders.
More homes for more people
The one thing that does seem certain is that with a growing population there is a pressing need for new homes. The government seems to be starting to do something about it.
In fact, the government has already made a commitment to building 300,000 homes a year by the mid 2020s. Half of them will be affordable starter homes to be sold at 20% below market value in the biggest housebuilding programme since the 1970s. It looks as though this might be more than manifesto optimism.
Last week Mrs May delivered a speech on housing, in which she spoke of the need to put homes in reach of all, and spoke of the removal of stamp duty for 80% of first time buyers, and of putting an extra £10 billion into help to buy.
But she stated that actually building more homes was the greatest priority of all, and pledged to cut red tape, simplify the planning process – and provide the infrastructure that would make it possible to build more homes.
Cash as well as words
It looks as though this is more than simply a politician's promise. £866 million investment in local housing projects has already been approved. Housing Secretary Sajid Javid and Chancellor Philip Hammond announced in February that 133 local authority projects across the country will receive funding to support local work that will get housing developments built more quickly.
This cash will go to fund key local infrastructure projects including new roads, flood defences and land remediation, ahead of building the homes themselves.
The initiative has come at the right time for the UK's construction sector, which has been in the doldrums for years. It is beginning to show signs of life as commercial building work and residential construction are starting to pick up. A total of 160,606 new homes were registered during 2017, up 6% on the previous year and the highest since pre-economic downturn levels, according to the National House Building Council (NHBC), whose figures represent homes set to be built.
It was the highest annual figure for the NHBC since 198,929 homes were registered in 2007.
What will this mean for your financial plans?
More, and more affordable, homes are actually very good news for almost everyone. The benefits of those ready to buy a first home are obvious. Those already on the ladder will find it easier to climb higher. Prices may become more stable for all.
If your financial plans include investing in companies as well as in bricks and mortar it might make shares in housebuilders look rather more attractive again.
Naturally as with any investment, getting expert help and advice is essential, and at Continuum we would be happy to provide it.
Your home may be at risk if you do not keep up repayments on a mortgage or other loan secured on it.
Get in touch
If you would like to discuss further please call us on 0345 643 0770, email us at [email protected] or click on the 'Contact Us' link below. Thank you.
Sources:
thisismoney.co.uk – Nation's biggest estate agent Countrywide sees a fifth wiped off its value as profits are crushed by struggling property market – 08/03/18
markiteeconomics.com – PMI data
nbcnewhomes.co.uk – UK new home registrations up 6% in 2017 – 26/01/18
Related articles