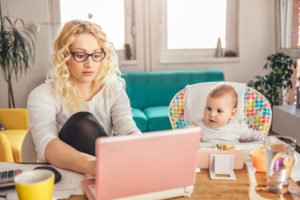 Planning for a newborn is hugely exciting, but it is only natural to have some worries.  It means changing the way you live – and it will have a financial impact.
Your little bundle of joy comes with a large list of needs. From cots to clothes, from baby food to prams and strollers, they can add up fast, especially if your income will be reduced. There are plenty of solutions, but as with most things financial, the sooner you start preparing, the easier things can be. 
Work out your income
Taking time off work to have a baby, or even leaving the world of work altogether for a few years will have a serious impact on money coming in.
If you have a partner who is working things may be easier, but your current employer has some statutory obligations.  If you've been working for your company for 26 weeks before the baby arrives and earn more than £95 a week you will be entitled to statutory maternity or paternity pay, but this won't cover your whole salary. Companies only have to pay 90% of your average gross weekly earnings for six weeks, followed by 33 weeks of 90% of your weekly pay or £123 a week, whichever is the lower.  Some employers may be more generous.
If you are self-employed you could be entitled to a government allowance of up to £145.18 a week.
If you are leaving work for good, don't lose track of your pensions, and remember, if you're not working, you can still save into a pension. If your partner is a high earner, they could pay into a pension on your behalf to make full use of your tax relief entitlement.
Work out your costs
When you have a clear view of the money coming in, you can make plans for how you will spend it. Your usual costs for your home, car and the other essentials may not change, but you will probably not be planning as many evenings out. Instead, you will have a long list of equipment to buy. The costs of preparing for a baby can mount up very quickly, but before you melt down your credit card in a baby shop, stop and look at what you really need. A changing mat can be just as effective as a complete changing table with drawers, for example. Family and friends may be only too keen to pass on items like prams.
Think of the future
Getting everything from baby clothes and a supply of nappies to a car seat will all be key costs, but with a family, it is also time to think about the future.
Life and critical illness cover are going to be essential for your peace of mind.
You'll need to be able to replace the breadwinner's salary in case anything should happen to them. But it is not enough. It's easy to think that the person staying at home looking after the baby doesn't need life cover because they're not earning a salary, but their role has a huge value attached. If they were to be ill or die, then it would cost money to pay someone else to carry out the work they do.
You should also think about making a will, particularly if you are not married. If you have a baby and give up work, you need to make sure your partner's life insurance, share of the house and any death in service benefit would come to you if they die.
For help with pensions, insurance and making a will please call us at Continuum.
The Financial Conduct Authority does not regulate wills, tax and trust advice.
Get in touch
If you would like to discuss further please call us on 0345 643 0770, email us at [email protected] or click on the 'Contact Us' link below. Thank you.
Sources:
gov.uk – maternity allowance
Related articles